Services
Valley Woodcraft offers a full compliment of services from parts to finished packaged products.
Valley Woodcraft can provide everything from parts to completely finished and assembled packaged products.
Services We Offer
Cad software for creating drawing and design prints.
CNC technology that produces parts using Nested-Based production.
Customers have the option of Standard, Express or Urgent delivery options.
Manufacture products from simple dimensional stock to complex assemblies.
Complete finishing capabilities.
As our service offerings have expanded over the years, customers have recognized the quality and reliability of the wood, phenolic, composite and machined plastics products we produce, and our business has grown. Our commitment is to provide our customers with superior service and reliable products at competitive prices.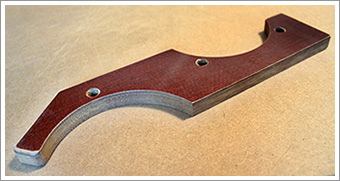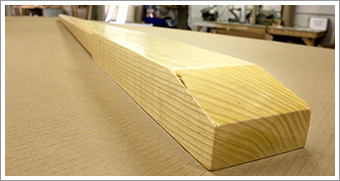 Our process capabilities include:
CAD/CAM
CNC
Multi-Spindle Line Boring
Drilling
Finishing
Profiling
Packaging:
Commercial and Mil-Spec
Paraffin Treatment of Lumber
Sanding
Shaping
Mortise and Tenon
Laminating
Gluing
Fingerjoints
We believe our commitment to quality and our outstanding services offer endless opportunities to provide our customers with the satisfaction their expectations are met.
---
Examples of Products Manufactured
Cable Cleat
Cable Clamp
Cable Fairlead
Clampblock
Cable Wedge
Burnout Stick
Block
Wedge
Switch Wedge
Switch Block
Plug
Spacer
Wheel Chock
Protection Board
Floor Board
Floor Panel
Flat Car Floor
Housing
Ramp Pad
Grab Rail
Guard Rail
Shoebeam
Side Board
End Board
Swing Stake
Pullboard
Chain Return
Heel Block
Shoe Slipper
Shoe Paddle
Rub Strip
Emergency Exit Ladder
Pit Ladder
Car Cleaner Ladder
Navigator Table
Phenolic Pad
Tape Guide
Spool Disk
Pallet Spool
Boat Hook
Emergency Paddle
Ladder Seat
Tunnel Insulation
Chassis Sill
Wall Sill
Floor Beam
Trim Vane
Filler Block
Rig Pin Block
Guard
Gauge
Stancion Block
Cover
Insulating Paddle
Bosin Seat
Bosin Cleat
Saddle Block
Shim
Bus Bar Support
Bench
Wooden Plow
Collet
Cushion Block
Footstool
Conduit Support
Collet Rack
Pry Bar
Lifting Device
Tubing Support
Gangway Notice Board
Name Board
Bulkhead Protector
Spacer
Cargo Strip
Flap Pad
Stiffener
Guide Block
Bunk Backing
Dip Stick
Keel Filler
Duct wear Strip
Insulator
Chain Guide
Cover Plate
Access Panel
Thermal Barrier
Wood Bearing
Motor Cradel
Stinger Beam